Revd Henry Law James 1868-1932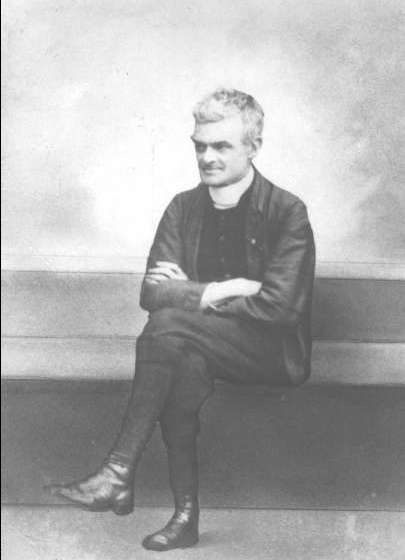 When Henry Law James died in 1932 at Surfleet, he had been vicar of the parish for 34 years. Such was his popular reputation that bell-ringers throughout the county subscribed to add two more bells to the existing ten thus making them, at that time, the lightest peal of twelve bells in the country.
Law James was born in November 1868 at Cathedral Gardens, Gloucester, within the limits of the Roman city, a fact of which he was particularly proud. He was named after one of his godparents, Henry Law, who was Dean of Gloucester. Law James's brother, E Bankes James, took their mother's maiden name. She was a descendant of Lady Mary Bankes who defended Corfe Castle which was under siege by the Roundheads in 1643 and again in 1645. Lady Mary is said to have baked mince pies in the shape of a cradle, and the James brothers would never eat mince pies unless the tradition was followed.
Law James was educated at Malvern College and went up to Gonville and Caius College, Cambridge in 1887, graduating with honours in the Natural Sciences. He was the University's fastest sprinter over 100 yards and was also a member of the football team. On one occasion after the University had been defeated by Arsenal he remarked ruefully that the opposing side had introduced a new technique - heading the ball!
He took Holy Orders and was ordained deacon in 1891 and priest in 1892, becoming curate at St. Martin's, Stamford at a salary of £20 per annum. He supplemented this by teaching chemistry at the Grammar School.
In 1897 the Bishop of Lincoln (Rt Revd Edward King) was looking for a successor to the Revd Hubert Parry, who had been vicar of Surfleet for some fifty years, and he offered Law James the living. After seeing the state of the church he turned the offer down, but the Bishop persisted and eventually Law James accepted at a salary of £120 per annum, of which £30 had to be paid to his predecessor until Parry's death in 1901. Law James preached his first sermon at Surfleet on Septuagesima, 28 February 1898.
There was no vicarage and Law James had to lodge with one of the churchwardens, John Richardson, until he was able to rent a cottage in the village. The church was in great disrepair and the chancel was used as a lumber room leaving only a side altar in the north aisle. The congregation was small and the parish poor but Law James decided to attempt to raise the money to restore the church. It is indicative of his popularity that within three years he had raised £2,000, a considerable sum for those days.
He was able to install new seating and choir stalls and to erect a new rood screen. In 1907 he had a new organ built. The bells were restored and augmented first to six and later to ten. During the Commonwealth the south window of the church was broken and never properly repaired. Law James decided to do this, and paid children small sums of money to search the churchyard for fragments of stained glass which he saved and eventually used to repair the window. The church clock was over 400 years old and had not worked for many years. Typically Law James was determined to repair it and he did, but in the process on one occasion it struck no fewer than 120 times!
Law James had many interests and a vast store of antiquarian knowledge, but despite this he was a devoted parish priest and won the love and gratitude of his parishioners. He possessed private means which he used generously in the interests of the parish. He was characterised by an assertive self-confidence, and if he decided a theory was correct or a procedure the only right one then in his opinion there was no more to be said on the matter. Sometimes he appeared to be impatient with those who did not agree with him and simply could not believe that his view could be questioned. Because of this his contemporaries appeared to be driven by sheer self-defence to a closer examination of their own theories and to go more deeply into the truths upon which these had been based.
As well as being a scholar he was interested in things mechanical. With Herbert Leverton he built a steam boat which was used to collect elderly parishioners on Sunday evenings to take them to church. It was also used to tow several boats on the annual Sunday School Feast. As well as carrying the Sunday School pupils and teachers, they took along the Whaplode Drove Prize Band. The steam boat was not particularly reliable and on one occasion Law James and Rupert Richardson, also of Surfleet, arrived at Bourne church covered from head to foot with soot!
In 1908 Law James purchased an acre of land for £100 and in 1913 built a vicarage at a cost of £1,900. He received grants totalling £700 and paid the balance himself. This was not an unusual procedure at that time. He had an upstairs study and visitors to the vicarage would have to sit through long, complicated and animated discussions between Law James and his brother. During the First World War James grew his own tobacco which was dried in the greenhouse and then soaked in rum and brown sugar. It was then rolled in tarred paper which produced wads like rolling pins. After smoking this the study ceiling ran like treacle!
For much of the information contained herein I am indebted to the late Charles Rawding of Surfleet who, after leaving school in 1914, became pageboy at the newly built vicarage. The duties of a 14-year old pageboy were hard, the hours long and the work varied to say the least. One of his duties each Monday morning was to collect bones from the butchers and these were boiled up in the copper to make soup for the poor. The pageboy had to clean the copper after the washing was done, and Charles admitted that at times the soup tasted of carbolic soap!
Law James always spent his holidays in North Wales for a month, but had a priest staying at the vicarage to carry on the daily services. Mr Rawding recalls one occasion when a visiting clergyman had to have a boiled egg just before midnight on the Saturday night so that he could celebrate Communion the next morning fasting.
When Law James first came to Surfleet he was a strong Protestant and all services were very anti-Catholic. Soon after his appointment he organised a Sunday School which was well attended, each child received a stamp for attending on Sunday mornings and if the child attended again in the afternoon the stamp was marked accordingly. In 1916 a 'National Mission of Hope and Repentance' held outdoor services in Surfleet led by the Revd W I Rawson of Metheringham and the Revd R Bond from Holbeach Hurn. As a result, Law James was converted to the Anglo-Catholic tradition and altar frontals were converted into chasubles. He introduced acolytes and candles which on one occasion caused something of a sensation. This was at a choir festival when the Vicar of Wigtoft blew out all the candles and Law James relit them. This went on for some time until one of them gave way. It is not recorded which this was but Law James was noted for his strong personality!
His enthusiasm sometimes caused him to carry things to excess as on the occasion when the Bishop was visiting Surfleet and was met at the station by Law James dressed in full vestments. The Bishop was not amused and instructed Law James not to do it again.

After moving to Lincolnshire, Law James became a great cyclist, and it was not unusual for him to turn up in knickerbockers and puttees after cycling some 100 miles in order to assist members of the Lincoln Diocesan Guild of Church Bellringers which he had been instrumental in founding in 1899.
His brother, Revd E Bankes James, became a master at Wykeham College and usually spent his vacations at the Vicarage bringing with him some of his pupils dressed in long belted coats and straw hats. Both brothers preached without notes and at times got carried away. It became the custom for one of the pupils to hold a finger up at the end of fifteen minutes to warn the preacher to draw to a close.
When Revd E Bankes James retired he came to live at Surfleet, and after his death in 1948 he was buried in Surfleet churchyard at the side of his brother, who had died in 1932..
JRK