Top Background Belfry reform Founding of LDGCR WWI - WWII WWII Post WWII 60s & 70s 80s & 90s Millennium Honorary Life Members Membership Growth
A History of the Guild
Background
During the reign of Queen Elizabeth I, Sunday was a day on which all manner of sports were played. Bellringing for pleasure was permitted, but only one bell was to be used as a summons to attend services. From this time on bellringing became a secular sport, with very little connection with the building in which bells were hung. Probably the survival of bellringing was actually because it was regarded as a secular sport.
Companies of bellringers with rules somewhat similar to those of the livery companies were established. The oldest of these companies which still exists is that of Lincoln Cathedral, the Ordinances of which date from 1612. The London based Ancient Society of College Youths dates from 1637.
Bellringers became noted for their unruly behaviour and in 1808 the Chapter Acts of Lincoln Cathedral record that the ringers were disorderly, noted for their drunkenness.
Belfry Reform
By the mid-nineteenth century the influence of the Oxford Movement led to belfry reform, and a number of territorial ringing societies were established, with the main object of encouraging bellringing as a service to the church.

The South Lincolnshire Association was founded on 12 August 1879 and five years later, on 4 October 1884 the East Lincolnshire Association was founded. Also in 1884 the Eastern Counties Association was founded, as was the North Lincolnshire Association.

When the Central Council of Church Bellringers was founded in 1889 its object was 'to promote and foster the ringing of bells for Christian Worship and celebration...'. All the above Associations were affiliated to the Council, with the exception of the East Lincolnshire Association.

Top Background Belfry reform Founding of LDGCR WWI - WWII WWII Post WWII 60s & 70s 80s & 90s Millennium Honorary Life Members Membership Growth
The Founding of the Guild
In 1899, mainly through the influence of the Revd H Law James, it was agreed that the four Associations should be combined to form the Lincoln Diocesan Guild of Church Bell Ringers. The first meeting of the Diocesan Guild was held on Saturday 29 April 1899 with the Bishop of Lincoln in the chair. It was agreed that the objects of the Guild were to be :

to encourage the recognition of ringers as church workers
to promote the ringing of bells for worship and on other suitable occasions
to promote the repair and restoration of bells
to recruit and train ringers
to promote and advance change ringing
The Annual Meeting of the Guild is held on the last Saturday in April in Lincoln. The Bishop of Lincoln has been Patron for the whole period of the Guild's existence.
The first Master of the Guild was Revd Henry Law James of Surfleet, who was a well respected although in some ways controversial bellringer. There is no doubt that the credit for the success of the Guild in its first 25 years was due to him.
A Guild Membership Certificate was designed by Mr F F Linley of Gainsborough, with many similarities to the one he had designed for the North Lincolnshire Association in 1890. The first batch of certificates was presented to the Guild by the Northern Branch in 1904.
Law James was forthright in his comments published in the Guild Annual Reports. In 1902 he said 'Lincolnshire ringers as a rule will ring with a slack rope at backstroke', and in his last report published in 1930 he made similar comments. In the 1905 Report he said 'Let me say it again, as I have said before, Lincolnshire striking is poor...' and in 1910 'The striking in the southern portion of the county is steadily improving, owing to wider leading, and I hope that North Lincolnshire will follow suit, as ringing without open leads is not fit to listen to...'.
The Guild's first peal of Cambridge Surprise Minor was rung in 1909, and the first in seven Minor methods was rung in the following year. Both these peals were rung at Edenham, and this tower has been popular for peals throughout the Guild's history. The accepted way to ring more than seven Minor methods in a standard length peal (5040 changes) was in 360s or even 240s with rounds coming up at each change of method. Law James's brother, Revd E Bankes James investigated method-splicing and Law James was the first to put it into practice. A peal in eight Minor methods was rung at Surfleet in 1909, and one in nine the next year. On Wednesday 15 February 1911 the first true peal in 14 Minor methods was rung.
Surprisingly, the first peal of Surprise Major for the Guild was by a non-resident band — Superlative on handbells! Law James must have been annoyed, but within a month he called a peal of Cambridge Surprise Major at Spalding by a resident band.
Perhaps not surprisingly the main activity at this time was in that part of the Guild now covered by the Elloe Deaneries Branch under the leadership of Law James, and the man who was to become his successor as master of the Guild, Rupert Richardson.
Top Background Belfry reform Founding of LDGCR WWI - WWII WWII Post WWII 60s & 70s 80s & 90s Millennium Honorary Life Members Membership Growth
The 1914-1918 War and after
Many ringers were lost during the war and as a result of the outbreak of influenza in 1918-19. Only 28 peals were rung for the Guild in the first full year after the war. However, there were two noteworthy peals rung at Surfleet — Surfleet Double Court Royal and Double Norwich Court Bob Royal. Both of these peals were composed and conducted by Law James.
John Ashley Freeman of Lincoln became the first ringing master of the Northern Branch in 1922, a position he held for 25 years. He called the first peal of London Surprise Major for the Guild in 1928. Sidney Proctor of Grantham called peals of Stedman and two Surprise Minor bands emerged in the Southern Branch, one led by Horace Day and the other by John Lake. Arthur H Palmer was the leading conductor in the Eastern Branch, and William E Clarke was beginning his long career as a peal organiser and conductor.
In 1924 the ringing career of Jack Bray commenced, and from 1926 he became the leading organiser of ringing in the north of the county both on tower and handbells. In 1928 a band drawn largely from the band at Gainsborough rang the first peal of Spliced Major for the Guild — Little and Plain Bob Major.
The Elloe Deaneries were by far the strongest region of the Guild and, during the 1920s, the Richardsons invited many of the leading ringers in the country for a ringing holiday based at their home in Surfleet. Many peals were rung during these weeks many of which were on handbells. Some of these were in unusual places. These included the blacksmith's shop in Long Bennington, Surfleet cricket ground, in a rowing boat on the River Glen, in the fuselage of a Handley Page bomber at Cranwell and on the sands at Skegness.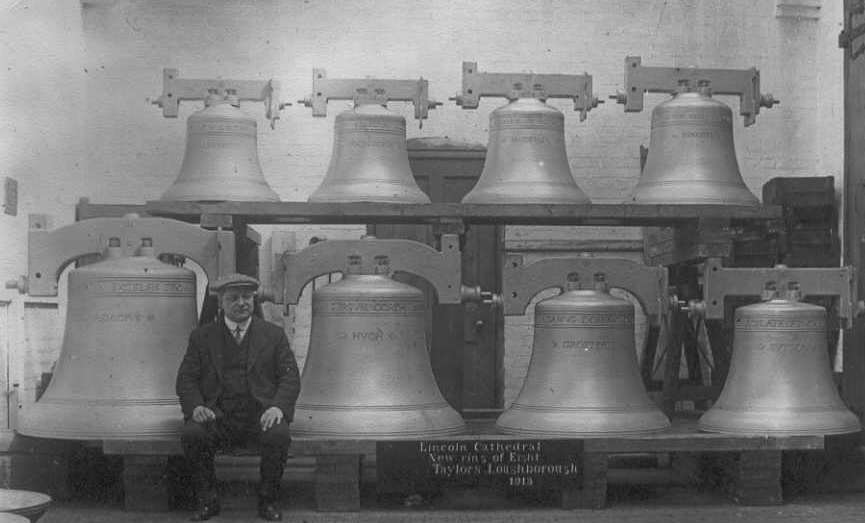 Although the eight bells [left] at Lincoln Cathedral had been recast in 1913 and hung in a new frame soon afterwards, the western towers were found to be unsafe and ringing was stopped. The eight at St Peter-at-Arches were also unringable, so ringing in the City was at a low ebb. However, after a major restoration of the Cathedral four treble bells were cast and Lincolnshire's first ring of 12 bells was opened on 15 December 1928. Two of these new bells were paid for by members of the Guild as a memorial to those ringers who had died during the war, and the other two by an anonymous American. The lettering used on these four bells is copied from the bells at South Somercotes cast in 1423, probably by John Smith of Louth.
The first peal on the new 12 was Cambridge Surprise Maximus, rung on 23 December 1929 by a resident band with Law James as conductor.
The Central Council of Church Bell Ringers met in Lincoln in 1922 and was attended by 56 representatives. Amongst the items discussed was the possibility of '...ringing being stopped or curtailed by by-laws against nuisance'.
As travel became easier with the establishment of rural bus services and with more people owning cars and motor cycles ringers were able to travel greater distances. Ringing outings became regular events and peal bands were less parochial. Ringers from a wider area were able to meet together and practise more advanced methods.
John Ashley Freeman was elected Master of the Cathedral Company of Ringers after the opening of the new ring of 12 bells, and he introduced a more welcoming policy towards visiting ringers. He was also very progressive. The second peal on the 12 bells was conducted by the legendary William Pye and the third peal was of Stedman Cinques by the local band rung at the first attempt.
In the Eastern Branch William E Clarke was arranging a number of peals, and in the North Jack Bray was organising peals both on tower and handbells. Frank Lord of Scunthorpe was also very active, and it is good to note that all of these people were branch officers.
In 1932 Revd Henry Law James died at the age of 63. Over 600 people attended his funeral thus confirming the esteem with which he was held throughout the country.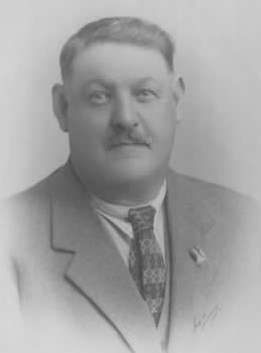 Rupert Richardson [right], who was elected Guild Master, was a physically large and ebullient character who had been involved in all of the 'firsts' for the Guild. Two bells were added to the ring at Surfleet as a memorial to Law James, who had restored and augmented these bells to ten. Within a year a peal of Stedman Cinques had been rung there by a Lincolnshire band.
In 1932 the bells at Boston Stump were recast and augmented to ten. At the same time the ringing chamber was reordered so that ringers could see over the dome in the centre, which had previously restricted visibility. Soon after this a young ringer from Kirton-in-Holland, Vernon Taylor, who had learned advanced method ringing from Horace Day started calling Spliced Minor. Vernon was in contact with A G Driver the composer, and in competition with a Cheshire band, peals of multi-method Spliced Minor were rung. They eventually set a record of 70 methods. In 1937 the Cheshire band set a new record of 73 methods. By this time Vernon's band had dispersed, but they got together to ring a final peal in 80 methods.
In the Southern Branch Horace Day's band equalled the record for Surprise Minor with a peal in 32 methods - the most possible at that time. Another Lincolnshire band with George Feirn as conductor had emerged and, starting with 21 Spliced Minor in 1937, rang a record 104 methods in 1939. They then topped this with 125 methods in nine extents. Three of this band, George Feirn, Jack Bray and his wife, Norah set the record on handbells with 19 methods in 1938 and in December 1939 achieved 50 methods. With Frank Lord this band also rang six Spliced Major in hand.
In 1934 John A Freeman called the first peal of Bristol Surprise Major by a resident band, and in 1937 he called a peal of four Spliced Surprise Major. In 1939 he called a peal in 10 Surprise Major methods, which was only the second such peal ever rung. He obtained a composition in 16 methods, but the war intervened.
The Lincoln area of the Guild benefited from an influx of young enthusiastic ringers. So much so, that in 1934 all twelve bells of the Cathedral were tied for silent practice after Sunday Evensong ringing! Jack Millhouse rang his first peal in 1935, and in just over two years his total had reached 50. Later in 1935 John Freeman, the son of the Master, called his first peal - Stedman Cinques!
Top Background Belfry reform Founding of LDGCR WWI - WWII WWII Post WWII 60s & 70s 80s & 90s Millennium Honorary Life Members Membership Growth
World War II
Although after the outbreak of war in 1939 peal ringing decreased; other ringing continued until 1940, when bell ringing was only to take place as a warning of invasion. After this some meetings were arranged for handbell ringing, and other social activities, but after a time the clappers were removed except for one or two bells and 'ringing' was resumed. A suggestion in the Ringing World that ringers should give hospitality to ringers in the Forces or on other war work resulted in the Guild Master, Rupert Richardson, declaring his farm 'open house'. He even managed to get an extra allocation of petrol so that he could attend Guild Meetings. The open house policy was operated throughout the country and Jack Millhouse, who was then a young sailor, often said how grateful he was to George Cross, Master of the Society of Royal Cumberland Youths, for befriending him when in London.
As a celebration of the victory of El Alamein in November 1942 bells were rung open, and ringing was also allowed on Christmas Day in the same year. On 25 April 1943 the ban was lifted for service ringing, but in June it was agreed that all restrictions should be lifted.
Nine Lincolnshire ringers gave their lives during the war, but only Waddington church was destroyed by enemy action. Amazingly the bells survived.
Top Background Belfry reform Founding of LDGCR WWI - WWII WWII Post WWII 60s & 70s 80s & 90s Millennium Honorary Life Members Membership Growth
The post-war revival
As ringers slowly returned home after war service, ringing began to return to normal. 90 peals were rung in the first year after the war, but on 13 January 1947 Rupert Richardson died. At his funeral all the leading ringers in the country attended, and in his memory a bell was added to the 12 to make a light eight. Rupert's successor as Guild Master was John A Freeman.
The six-bell handbell peal band led by George Feirn began the year with a record peal in 53 methods, and in June reached 105 methods. In March 1947 the pre-war Spliced Surprise Major band conducted by John A Freeman established a new record with 16 methods. A band conducted by John Freeman decided to try for the record length of 14,144 London Surprise Major. After an attempt failed on 2 August 1947 after about 5 hours 30 minutes it was rung two months later on 4 October in 8 hours 25 minutes. This record stood for over 30 years.
In 1948 John A Freeman's band set a new record for Spliced Surprise Major — this time in 22 methods. In 1949 a band based at Frampton in the Eastern Branch rang peals in 26, 32 and 33 Spliced Surprise Minor. After a break of four years they rang one in 35 methods and after a further two-year gap on 5 March 1955 they rang 38 methods. All the previous peals had been conducted by John Young but this peal, which was a record at that time, was conducted by Rhoda Brown (now Rhoda Reynolds).
In 1950 the Northern Branch handbell ringers, conducted by George Feirn, started the year with a peal in 12 Spliced Plain Major methods, and by November they had reached 36 methods. In the following year they reached 50 methods. In 1960 a new band, but with George Feirn still doing the conducting, got up to 54 methods. However, it was realised that every composition over 27 methods had been false. This was, of course, long before the days of computer proof, and sadly a large number of peals had to be withdrawn.
The Central Council of Church Bell Ringers chose Lincoln again for its meeting in 1952. There was a long and inconclusive debate on method extension, which was referred back to the relevant committee.
Top Background Belfry reform Founding of LDGCR WWI - WWII WWII Post WWII 60s & 70s 80s & 90s Millennium Honorary Life Members Membership Growth
The 1960s and 70s
The Guild Master, John A. Freeman, died in January 1961 having been Master since 1947. In his memory the Branches subscribed towards a Master's badge of Office. The new Master was Jack Bray.
In the 1960s two peal bands became very active. One was the 'Monday-night' from the Spalding area led by Ron Noon, and the other was a mainly Lincoln band under Jack Millhouse.
In 1963 the first Guild Festival was held and took the form of a cricket match with the north playing the south. In the same year Jack Millhouse became the first Guild member to ring 1000 peals.
In 1965 the highest number of peals yet rung for the Guild was 194 and there were 42 conductors. In 1967 a Grantham band conducted by Denis Frith rang a peal in 177 Spliced Doubles methods which was the greatest number yet rung.
In 1969 the first Guild Striking took place on the six bells at Branston. This has been an annual event ever since, with the finalists from the six branch striking competitions taking part in the final. In 1970 John Freeman was elected Master following the resignation of Jack Bray.
In the 1960s residential bellringing courses began to be part of the ringing year. Harold Radley arranged the first in Lincolnshire, after putting pressure on the county education authorities. Kesteven agreed to sponsor a course based at Brant Broughton in 1967, and this was attended by 32 students. Follow-up half-day courses were held at Ruskington and Billingborough, and a full day course at Welbourn. Seven further weekend courses were held at Brant Broughton before the college closed.
At the 1979 Guild AGM it was proposed that peal fees be doubled, with the proceeds going to the Guild Bell Repair Fund. After warnings of the possible consequences, this proposal was withdrawn but it was raised again at the following AGM and agreed. The result was the formation of The South Lincolnshire Society, and many peals were credited to it until in 1983 when a meeting was arranged between the two sides. It was agreed that peal fees should be set at a level which would finance the cost of printing the peals in the Guild Annual Report. The South Lincolnshire Association was disbanded with effect from 1 January 1984.
Towards the end of the 1960s there were concerns over the cost of printing the Annual Report. In 1972 the Grantham ringers, backed by the Guild Committee, decided to undertake the production of the Annual Report themselves, and ever since the report has been produced by Guild members.
The Central Council of Church Bell Ringers visited Lincoln for a third time for its 1975 meeting. This was a much bigger event than the two previous meetings. Brian Buttery produced an information booklet for the representatives, and a number of peals and tower tours were arranged.
Apart from the election of Committees, the main business was a long and inconclusive debate on the future of the Council's library.
Top Background Belfry reform Founding of LDGCR WWI - WWII WWII Post WWII 60s & 70s 80s & 90s Millennium Honorary Life Members Membership Growth
The 1980s and 90s
The 1980s were notable for the number of peals being rung with 217 in 1983, 210 in 1984 and 219 in 1985. Jack Millhouse in 1984 became Lincolnshire's first 2000 pealer and he also recorded 1000 peals as conductor. There were many notable peals rung at this time. John Walden, who died in 1986 at the age of 94, rang in many notable peals since the 1920s. He rang peals of Stedman Triples on the 'Richardson Eight' on his 90th, 91st and 92nd birthdays.
In 1985 Michael Stracey began the task of collating and analysing quarter peals rung in the Diocese, a task which he has undertaken ever since, even when posted to Germany with the RAF.
John Freeman died suddenly in 1989. He had held branch offices in the Guild, and was Guild Secretary before becoming Guild Master. He was Vice President of the Central Council, and then President for six years, following which he was made a life member.
Although a memorial to those ringers who had lost their lives in the First World War was in the Ringers' Chapel at the Cathedral, it was not until 1997 that this was replaced with a new memorial commemorating those ringers who had lost their lives during both World Wars.
1999 was the Guild Centenary year and the Central Council visited Lincoln for a fourth time. Apart from London, which prior to 1939 hosted the meeting every third year, Lincoln is the most visited venue. A Centenary Dinner was held in the Summer of 1999, and this was somewhat dampened by the death of Jack L Millhouse in the previous week.
Top Background Belfry reform Founding of LDGCR WWI - WWII WWII Post WWII 60s & 70s 80s & 90s Millennium Honorary Life Members Membership Growth
The Millennium and beyond
The impending Millennium encouraged a recruiting and teaching campaign which resulted in a number of new ringers, particularly in the older age groups. A remarkable number of bell restorations took place both before and after the year 2000. Some restoration schemes were agreed as a millennium project, but fund raising continued for several years afterwards. The most remarkable aspect of these schemes was the number of completely new rings of bells which resulted.
The eight at Market Rasen were restored after a silence of many years, and Harrington (3) and Claypole (5) were rehung. New rings were hung at Middle Rasen (6), Sutton St James (6), Botttesford (6), Thorpe on the Hill (6), Gunby were augmented from 3 to 5, and Tealby were augmented from 4 to 6.
2003 was a particularly busy year with the National Twelve Bell Striking Competition Finals taking place at Surfleet, and The Ringing Roadshow at the Lincolnshire Showground. Both these major events in the ringing calendar were most successful and enjoyable occasions.
Honorary Life Members
In 1998 in was agreed 'that Honorary Life Membership of the Guild may be conferred on a Ringing or Associate Member who has given outstanding service to the aims and objectives of the Guild'. Since then the following have been elected :
| Name | Elected | Tower |
| --- | --- | --- |
| Denis A Frith | 1999 | Grantham |
| J Moore | 2000 | Gosberton |
| G Leslie A Lunn + | 2000 | Lea |
| Thomas Charlton + | 2000 | Moulton |
| Mrs P Johns + | 2000 | Gainsborough |
| Mr and Mrs A Crowder ++ | 2000 | Barrow-on-Humber |
| Henry Conyers + | 2001 | Louth |
| George E Feirn + | 2001 | Kirton Lindsey |
| Philip Barnes + | 2002 | Burton-on-Stather |
| Bernard B Tyrrell + | 2002 | Spalding |
| Walter Froggatt | 2002 | Lincoln, St Mary |
| Denis Sutton + | 2002 | Waddington |
| James A Sutherland + | 2003 | Wragby |
| Mr P + and Mrs R Reynolds ++ | 2003 | Swineshead |
| Ronald Applewhite | 2004 | Potterhanworth |
| Margaret A Parker MBE | 2004 | Nettleham |
| Edward W Colley + | 2005 | Caistor |
| A Robin Heppenstall | 2006 | Gainsborough |
| Barbara Rand | 2006 | Messingham |
| James E Benner | 2007 | Bourne |
| Dr John R Ketteringham MBE + | 2007 | Lincoln St Giles |
| Terence Maddison | 2007 | Thurlby |
| Philip N Green | 2008 | Deeping St Nicholas |
| Judith J Williamson | 2008 | Lincoln, Cathedral |
| Leslie G. Townsend | 2009 | Lincoln, Cathedral |
| Michael E. Stracey | 2013 | Lincoln, St. Giles |
+ indicates that the Member has since died
JRK
Top Background Belfry reform Founding of LDGCR WWI - WWII WWII Post WWII 60s & 70s 80s & 90s Millennium Honorary Life Members Membership Growth
Membership Growth
The membership of the Guild as at 31 December 2006 was as follows:
| Category | Members |
| --- | --- |
| Central Branch | 158 |
| Eastern Branch | 71 |
| Elloe Deaneries Branch | 95 |
| Northern Branch | 98 |
| Southern Branch | 169 |
| West Lindsey Branch | 150 |
| Honorary Life Members | 16 |
| Total for the Guild | 757 |
This compares with a total membership of the Guild in 1939 of 499.
Top Background Belfry reform Founding of LDGCR WWI - WWII WWII Post WWII 60s & 70s 80s & 90s Millennium Honorary Life Members Membership Growth