John Freeman 1919 - 1989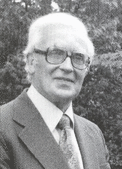 John Freeman died in his sleep on July 5th whilst on holiday in Spain. John was born the elder son of John Ashley Freeman who as the leading ringer in North Lincolnshire was Master of the Cathedral Company and of the Guild.
John was taught to handle a bell by his father in 1934. He rang his first peal at the first attempt, Christmas 1935. He astounded the Ringing Exercise not only by ringing Stedman Cinques for his first peal but conducting it too. In the next few years he conducted peals in all the standard Surprise Major methods, mostly from a non-observation bell, and stood in the first peals of Spliced Surprise Major for the Guild.
In 1940 he was called up and joined the Royal Army Medical Corps, serving in the Sudan and in North Africa with the Eighth Army. Whilst there, he produced compositions of Stedman Caters, Yorkshire Surprise Major, and one of Spliced Surprise Major in the four standard methods. John liked to tell a story concerning the first Stedman composition, which he had sent home for his father for his opinion. In his next letter father dryly remarked that it would be very useful if someone wanted to call a touch of 4,971 changes -John having at one point inadvertently gone more than a course between two successive calls.
After the war, ringing was resumed with great verve and John was in the Cathedral band which rang peals of Spliced Surprise Major. Two records were created - one in 1947 of 16 methods and the other in 1948 in 27 methods. But there had been another achievement in 1947 when John himself called 14,144 London Surprise Major at Heydour, a record length that lasted for over thirty years. London was one of his favourite methods and it was an inspiration to. watch him sort out a muddle in it. Stedman was another favourite and after his first peal in it he never again called from an observation bell.
John was also very proficient on handbells. He rang Stedman Triples to Cinques as well as the standard eight Surprise Major methods. After ringing 3-4 in a series of Spliced Plain Major peals up to 54 methods it was found that compositions over 27 methods were false.
In 1948 he was elected as one of the LDG's representatives to the Central Council, continuing such until 1970 when in recognition of his services to the Council he was elected a Life Member. He was elected on to various of its committees continuously from 1954 and was currently the chairman of the working party negotiating a new "Code of Practice" with the Bells Committee of the Council for the Care of Churches. 'Jafus' (the pen name for J F Smallwood, a foremost member of the Exercise) wrote of him in 1960: "Mr Freeman is a man held in high esteem by the Exercise and the Central Council. Quiet and thoughtful, he is never noisy in debate, but when he does speak he is listened to with much respect. Like his father, he is solid and reliable, and his sound common sense ensures that his contributions to discussions are of the utmost value". These contributions were realised by his election as Vice-President of the Council in 1963 and as President in 1969. During his six years as President he officially visited every territorial Guild and Association in the British Isles, creating and cementing friendships he valued highly.
John had been a member of the Lincoln Cathedral Company of Ringers from 1935, a total of fifty-four years, and was its Master for four years. He had been the Guild's Advisor to the Diocesan Advisory Committee for Faculties since 1946, his qualifications as a Structural Engineer proving of great value. He was Secretary and Treasurer of this Guild from 1961 to 1968, then Guild Master from 1970 to 1981.
John spent all his working life with the Local Authority and was for many years surveyor and chief public health officer. After the 1971 reorganisation of local government he became Director of Technical Services which post he retained until his retirement in 1981. From then on his peal ringing intensified. It is felt that his own estimate of seven hundred peals rung may be on the low side.
Another aspect of John Freeman was his after dinner speaking, for which he was in much demand. Always amidst the serious words there was humour, and he could tell a good story - often against himself. His ready wit was the product of an alert mind and his preparation for any such engagement was intensive and thorough. This sense of humour was a decided asset in the skills he brought to the art of chairmanship of a business meeting, be it Central Council or branch quarterly. It can now be revealed that whenever John gave a talk on bellringing to any group or society, the donation he received was always passed on to Guild funds.
The regard in which he was held was evident by the numbers present at his funeral and at the memorial service a week later in his much loved Cathedral.
Sixteen peals and many quarters were rung to his memory.
JRK