Sandra and John Tie the Knot - 24th July 2010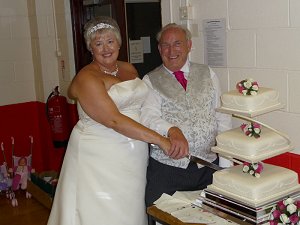 The West Lindsey Branch has lost one of it's leading ringers. Meanwhile the Central Branch seems to have gained a ringer of excellent standing.
This state of affairs has come about with the marriage on the 24th July of Sandra Stallibrass (Central) and John Underwood (West Lindsey). The ceremony took place in the Ringer's Chapel at Lincoln Cathedral and was attended only by immediate family and friends, due to the limitations on the number of people that can be accomodated in the Ringer's Chapel.
The ceremony was conducted by the Very Reverend Philip Buckler, Dean of Lincoln Cathedral. Music for the ceremony was provided by 2 members of the Lindum Accordion Club, of which John is a member. Handbells were rung during the signing of the register. The Cathedral bells were rung both before and after the cermony and is probably one of the few occasions where all 12 bells have been "fired". During the ceremony the ringers were able to attend the service by standing on the balcony at the west end of the chapel. This came in very handy for one of the hymns which we all know and love, "Unchanging God", to the tune of Belfry Praise. All bellringers know this hymn, but a lot of the congregation were not bellringers, so it was handy to have some extra voices. Indeed the Dean described it as the "hymn which nobody knows!" You speak for yourself!
After the ceremony the couple departed in the wedding car, which was a 1939 SS Jaguar. Unfortunately the destination was the Cathedral Centre right next door, so the happy couple did a token circuit of the Cathedral in the car, otherwise John would not have got a ride in it!
Later on, an evening reception and Ceilidh was held at the Village Hall at Upton with Kexby. This featured a hog roast and a live band, The Riverhead Ranters. There were 120 people who attended the evening reception. Also the cake was cut for the second time that day (see picture). Apparently Sandra had arranged an extra bottom layer.
I have it on good authority that the couple honeymooned in the Isle of Man, where they had a very enjoyable time. The newly-weds intend to live in what was Sandra's house in Central Lincoln, along with a ceramic ring of 8 bells (flower pots!) and assorted cats.
I'm sure you will join me in wishing the couple the very best wishes for their future together.
Jonathan Clark