Matthew and Lorraine Jeffery meet the Archbishop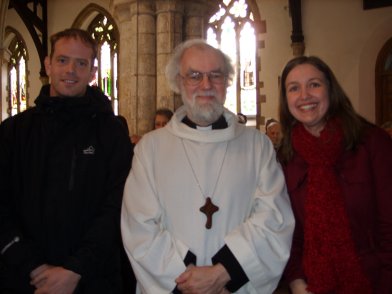 This fresh in. Most of you will recognise the two ringers as being Matthew and Lorraine Jeffery of the Northern Branch and I would sincerely hope that you would all recognise the gentleman in the centre with the magnificent eyebrows as being none other than Dr. Rowan Williams, Archbishop of Canterbury.
The picture was taken on Sunday 7th March, at St. James Church, Grimsby, where the Archbishop celebrated Holy Communion. He also visited St. Aidans, St. Stephen and St. Johns Churches and paid a visit to that well known centre of ecclesiastical excellence, Grimsby Fish Docks. Apparently he has always wanted to visit them.
The Archbishop has been in Lincolnshire on a 4 day visit as part of the celebrations of the 100th Anniversary of the death of Bishop Edward King. For more information on the Archbishop's visit, please click here.