Percy Cooper - 80th Birthday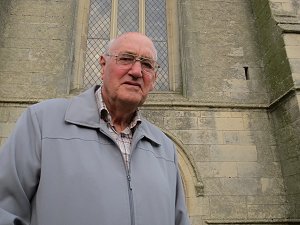 Percy Cooper

Percy Cooper a long established ringer and tower captain for a long period at Haxey celebrated his 80th birthday on August 20th. A quarter peal of Doubles was rung by local ringers and family members to mark the occasion.
---
Haxey, Lincolnshire
St. Nicholas
Tuesday 20th August 2013
1280 Grandsire / Plain Bob Doubles
1 Melvyn Rose
2 John F Underwood
3 Ted Steele
4 David Cooper
5 Ian Till (C)
6 John Cooper

80th Birthday compliment to Percy Cooper, longstanding ringer and previously tower captain at this Church.

---
On the previous Saturday a party was held in the Church Hall when family, friends and local ringers attended. On the menu was beetroot grown on Percy's land.
Percy is of the old school and in his opinion there are no local characters left. He says this with tongue in cheek and fails to look in the mirror whilst uttering the remark!
We all wish Percy many more beet growing years and an extension to his sixty seven years of ringing!
Melvyn Rose