Laura Bates marries Simon Smith, 19th July 2011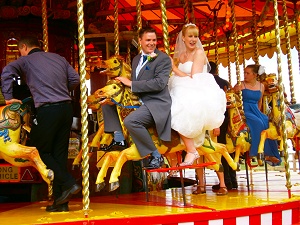 The Happy Couple
On 19th July 2011 Laura Bates, a ringer at St Helenís , Willingham by Stow married Simon Smith. This was a very special occasion for the village; the church was packed and many villagers waited outside to see Laura and Simon leaving for the reception on a decorated trailer pulled by a tractor.
Ringing by Lauraís friends took place before and after the wedding, which was presided over by Canon Rhys Prosser, the West Lindsey Branch President. The reception was held in a marquee which had been put up in a specially flattened field on the Batesí family farm. Next to the marquee was a fabulous steam driven carousel, which was greatly enjoyed by reception guests and the bridal party.
Unfortunately the wedding clashed with the branch striking competition. Laura was not to be persuaded to ring in her wedding dress! Three of the guests had to make a quick dash over to Scotter to ring in the competition, and then return to the reception. Perhaps not surprisingly, we didnít ring as well as we might.
Many people in the guild will recognise Laura from the Guildís publicity banner. Laura has been a loyal member of the Willingham band for many years now. She has many other interests, and just two weeks before her wedding earned her Queenís Scout and Duke of Edinburgh Gold awards.
She and Simon have moved into the house right next door to the Tower Captain in Willingham. No Sunday morning excuses now! We wish them every happiness for the future.
Sue Faull