Grantham Open Ringing on the new 12 - 1st April 2013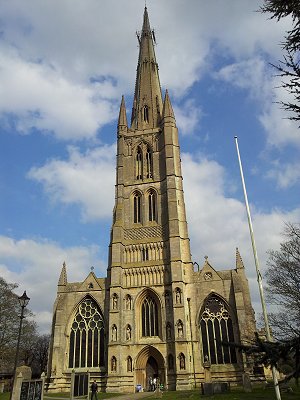 St. Wulfram's, Grantham
As has now become common practice for the webmaster, I was a bit late getting to Grantham. It was about 2:20pm and I was expecting to hear the bells pealing out, but they were silent as I approached St. Wulfram's.
I was about to enter the church when I heard the front 3 bells being rung up, which seemed a bit odd. Barry Jones was also on his way into the church and explained that the stay had broken on the treble and they were repairing it. This required the front 3 bells down for safe access. After chatting to assorted ringers, I made my way up the tower to the ringing chamber.
I arrived for some Rounds on the 12 and I rang the Tenor. After ringing, I was chatting to Chris Woodcock and discovered that in fact the stay on the treble had not broken, but the slider had jumped out from between the blocks. We then rang a Bob Course of Grandsire Cinques, in which I rang the 10th and later I rang the treble to some call changes.
This gave me a good impression of the bells, which is that they make a very nice ring of 12. There is always a worry when rings of bells get augmented that they might ruin them and Grantham has always been a very pleasant 10. However I need not have worried and I hope my fellow ringers will agree with me that I think that they might just make a better 12 than a 10.
Other ringing included some Little Bob Maximus, at that start of which the treble slider again decided to jump out of blocks. This required the front 3 bells to be rung down again while it was put back in. This is a minor teething problem that should be easily corrected, now that the problem is understood.
Towards the end of the practice, a half course of Cambridge Surprise Maximus was rung. I have managed to capture the first minute or so on video below.
Cambridge Surprise Maximus at St. Wulfrum's Grantham
After ringing, the members enjoyed tea and coffee and assorted cakes in the Church coffee shop, the proceeds going to the St. Wulfram's Spire Restoration Fund.
Jonathan Clark (Webmaster)