Funeral - Ron Applewhite
Ron Applewhite's funeral takes place this Friday, 12th June. Sadly due to the current Covid situation this can only be a small affair attended by his close family only. However he will be remembered this Friday by those who can't attend his funeral to say goodbye and we are sure that in the future a service to celebrate his life will be organised at St Andrew's Potterhanworth, when we can all gather together and ring & remember him properly, in the way he would have wanted us to.
Christopher C P Woodcock
---



R.I.P. - Ron Applewhite
I am very sorry to have to inform you that Ron Applewhite sadly passed away on Friday, 22nd May 2020 at the grand old age of 100.
Ron was an Honorary Life Member of the Guild, being bestowed the honour, which he was immensely proud of, back in 2004, and for many years has been the oldest member of the Guild. Ron joined the Guild back in the early 1930's shortly after learning to ring.
Ron passed away after being not well and in hospital for the past 4 weeks. We are told it had nothing to do with Covid, just old age. At the end Audrey - Ron's daughter, was allowed to be with him at his side and she was holding his hand when he peacefully slipped away. We are told that before he slipped away he was conscious and awake and knew Audrey was there.
I for one know that Ron will have been happy to just slip away now peacefully at this time. He admitted he had had a good innings and a good life, he had reached his goal of celebrating his 100th birthday just four months ago, but he used to say to me "the mind is willing but the body isnt" and "its no fun growing old". It is just sad that we cannot all say goodbye to him together in the usual way at a funeral and ring the bells he loved in memory of him due to the current Covid situation. However we are sure there will be a service to celebrate the life of Ron at Potterhanworth in the future once this is possible and we will keep you all posted. Once details of Ron's funeral are known we will let you know, but this can only be a small family affair at the time being.
Christopher C. P. Woodcock
RONALD "RON" APPLEWHITE
(Ringer at Washingborough, Potterhanworth & Branston over 88 years and Honorary Life Member of the Lincoln Diocesan Guild)
1920 - 2020
Ron was born in Washingborough in 1920 and for many years lived in Dial House on the High Street just down from the Church. He was in the Choir at Washingborough Church until the age of 12 when his voice started to break and so it was in October 1932 that Ron moved from the Choir and started to learn to ring the bells at Washingborough instead. A lifelong passion began and Ron has enjoyed ringing bells ever since (for well over 80 years)!
He continued to ring at Washingborough, learning the method of the tower, at that time Grandsire Triples, which was rung regularly by the local band on Sundays for services. He said when he learnt to handle a bell they taught him on a tied bell on Saturday mornings, but he was expected to come along on Sundays and watch the ringing. In those days each of the ringers had their own bell so there was a lot of sitting out and watching for Ron who was learning. Then one Sunday they were a ringer short so Ron was pushed in at the deep end and told to grab hold and plain hunt the second to Grandsire Triples, until now he had never rung a single blow in a method, but they shouted instructions and he made his way through it. After this introduction into method ringing Ron went away and studied the line for Grandsire Triples at home, learning it from the fourth bell. The next time they were short Ron said could he ring the fourth as he had been looking at the line, apparently this took them all by surprise and they were amazed when he rang it faultlessly, the first time he had ever rung it inside, and from then on proved his worth and started to be allowed to ring with the experienced band on Sundays.
Then the Second World War put halt to his ringing and he went off to fight. On VE Day Ron was still out in the East Pacific fighting in Burma. On his return to Britain following the war he moved up and settled in Newcastle for a short time, this being where his wife Molly originally came from. He rang regularly at Newcastle Cathedral and whilst up North rang a peal for the Mayor Making Ceremony at the Watchtower in Morpeth for the Durham & Newcastle Diocesan Association.
It was not long before both Ron & Molly moved back down to Lincolnshire and they settled down in Potterhanworth, living in the village all their married lives. Both were great supporters of the Church and the Village, taking part and helping out with both community and Church events.
Ron soon got back into the local ringing scene. One night after moving back down to Potterhanworth he heard Nocton bells ringing from his Garden so Molly told him to get off and join them at Practice Night, which Ron duly did. He soon got invited to join the highly respected band at Branston and was soon ringing peals of complex multi Minor all over the county with them. They were held in high esteem being one of the best six bell bands in the county during the 1950's & 60's. They would practice the methods they were going to ring on a Friday Night at the Branston Practice Night and then the following day they would go off and ring a peal in them.
Ron has his name on many peal boards in Branston tower. He's most proud of the peal with the footnote "Rung in 2 days, 2 weeks, 2 months & 2 years" which is commemorated on a peal board in Branston tower. This peal was rung over midnight on New Year's Eve. It started at 9.30pm on New Year's Eve (Sat 31st Dec 1955) and came round at 12.28am on New Year's Day (Sun 1st Jan 1956). Ron always said it was a "cracking peal" one of the best peals he had ever rung. It was rung half muffled and the striking was faultless throughout, with the conductor remarking and encouraging them every now and then "Keep the rhythm going, there's folk out their listening" as it was so good and he did not want it to be spoilt. Another peal which Ron used to mention was the very quickly arranged peal of Minor rung with the bells fully muffled at Branston which he rang the fifth to for the Death of King George VI again the ringing was like clockwork, rung in the stately time of 3 hrs & 3 mins, and this was the only peal he rang fully muffled (something reserved for the death of a Monarch) but he said it sounded incredible, spine tingling.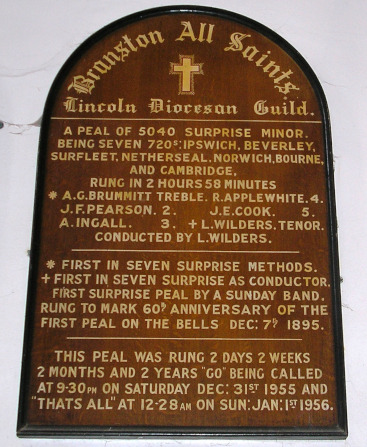 Ron rang his first peal on 11th February 1950 at Branston. In total Ron rang 114 peals, 110 of these being rung for the Lincoln Diocesan Guild and 94 of his peals being of Minor. He also rang his last peal at Branston on 25th March 1967 the time when the Branston band wound down due to stalwarts passing away. Branston was unsurprisingly his leading peal tower with a total of 22 peals. Ron was a reliable back end ringer who could set a good rhythm for the tenor ringer and was often found / asked to ring N-1 (tenor-1). Another peal which stuck in Ron's mind was his first peal on eight being Plain Bob Major rung on the heavy eight at Heckington. On this occasion Ron was asked to ring the seventh with Jimmy Musson from Silk Willoughby turning the tenor in. It turned out to be the fastest peal rung on the bells taking just 2 hrs & 45 mins. Ron said it nearly did him in (about creased him up) trying to keep up with Jimmy on the tenor. Apparently Jimmy Musson liked big bells and was a bit of a speed merchant - he enjoyed fast / brisk ringing, however he was a very accomplished and highly respected ringer locally and Ron rang a number of peals with Jimmy's band. After the Heckington peal the time was questioned but it was proven to be a true peal, and Ron said he could ascertain that it was certainly a very fast peal for such heavy bells as he had the blisters to prove it! Ron was pleased to have rung his first peal on eight at Heckington as his Uncle Arthur Dixon was a ringer at that tower and encouraged Ron to take up ringing in his early years.
He used to say in those days we were fit, we would cycle miles on our bikes and think nothing of it to go ring a peal somewhere far afield. One weekend the Branston ringers cycled out to Mablethorpe to ring a peal before the induction of the new Rector, who had formerly been at Branston before moving to Mablethorpe. After ringing the peal they stopped for the service before cycling all the way back home to Branston, all in the same day! On another occasion they cycled out to Horbling rang a peal in the morning had lunch at the pub, rang another peal in the afternoon at Billingborough before cycling back to Branston. Although their efforts cycling were not always rewarded ringing wise. They cycled from Branston all the way out to beyond Gainsborough into the Isle of Axholme to ring a peal, but unfortunately in the last 100 changes a rope broke, he said on that occasion they did not see the funny side and said it was a long silent cycle back home!
Ron was Tower Secretary for Branston at the time of the devastating fire of Christmas Day 1962 which destroyed most of the church but thankfully the bells and tower were saved just in time and virtually unharmed, although the bell ropes were all burnt through. Even so just four days following the fire, Ron & Jack Cook "Cookie" (Tower Captain) had begged borrowed and repaired enough ropes from neighbouring towers to enable them to get ropes back on Branston bells and the bells rang out on the Sunday following the Christmas Day Fire (just four days after) when the service was held across the road in the Methodist Chapel. They rang in the smouldering remains of the Church in the open air as the fire had totally destroyed the church roof! Even the fire did not slow the Branston band down and they were soon ringing peals again at Branston throughout the 3 year period of rebuilding and restoration of the Church. Ron was the last surviving member of the Branston band from the time of the fire.
After the collapse of the Branston band in the late 1960's Ron continued to ring but only locally for Weddings and Sundays, and rang no more peals. He maintained the three bells at Potterhanworth which would occasionally be rung for weddings and was so pleased in 2004 when after five years of hard none stop fund raising he saw his beloved bells at Potterhanworth augmented from three to six and rehung on new fittings. This was the villages Millennium Project and Ron helped at every stage including with the removal of the old bells and the rehanging of the new bells. He said he never thought he would live to see the day when Potter had a ring of six. They brought him much joy and pleasure as they were nice easy going light bells at ground floor which meant he was able to keep ringing them well into his 90's.
Around the time just before the Millennium when the Bell Project at Potterhanworth was first being thought about Ron's interest in ringing was reignited. By this time Ron was into his 80s and all of a sudden he was out ringing every night of the week at local Practice Nights. Monday nights was St Giles Lincoln, Tuesday nights was Waddington, Wednesday nights was Washingborough, Thursday nights was Branston and Friday nights was Wragby. He enjoyed ringing at these towers, ringing with some of his old friend's, not least Margaret Parker at St Giles, Dennis Sutton at Waddington & Jim Sutherland at Wragby. Then Saturdays saw him attend Branch ringing meetings and of course he was always found to be manning the ropes in various towers on Sundays without fail. He continued this level of ringing throughout his 80's including ringing many quarter peals. He rang over 50 quarter peals on Potterhanworth bells after the augmentation in 2004 as well as many other quarter peals at other local towers. Something else he greatly enjoyed was the Geriatrics Group who rang at Dunholme on the 1st Tuesday afternoon and Stow on the 3rd Tuesday. He greatly enjoyed the Stow Tuesdays when many of his old mates and their other halves used to gather at the Underwood's home after ringing and sit down to a fantastic spread of sandwiches, cakes and trifle, they put ringers teas to shame that's how good they were! You certainly never left feeling hungry and often left with a doggy bag! This was a very happy time as Molly would accompany him and the ladies who were not ringers would sit and have tea while the men went up to ring. He had many happy memories of being at Stow with John & Mary Underwood, Jim & Margaret Sutherland, Dennis Sutton, Margaret Parker, Iris Armstrong, Mick & Betty Stracey to name just a few. He was also closely involved at Wragby when local Tower Captain Jim Sutherland, one of Ron's best mates, came up with a plan to install a new ringing floor lower in the tower and to provide a new staircase for access. Ron instantly offered to help out and put his knowledge and skills he had gained after a life time of doing carpentry to good use. He enjoyed ringing at Wragby with his mate Jim and which often concluded with a trip to Jim & Margaret Sutherland's home or a trip to the Corn Dolly Cafe.
Ron was very proud of the fact that he had rung Quarter Peals on his birthday for his 90th, 91st & 92nd all at Potterhanworth. He said he was most proud of his Quarter Peal at Potter on his 90th birthday when he rang the fourth to Single Oxford Bob Minor. It was at this time that Ron told us that his secret to long life was a tot of whiskey each evening before going to bed!
Gradually Ron started to slow down. He did not ring anymore quarters after ringing the one on his 92nd birthday but he would still come out and ring at Potterhanworth & Branston (both ground floor) on Sunday mornings with us and it was only in recent years that he made the difficult decision to stop ringing all together - he said he was worried about missing his sally due to arthritis. However that did not stop him taking a great interest in the local ringing and even right up to the end Ron would recite the lines for various Surprise Minor methods, even though he was no longer ringing them or practicing them. By this time Ron had made the decision also to give up his car and move from his home in Potterhanworth where he had lived with his Molly nearly all their lives together to a warden controlled flat in Branston which had all the amenities that he needed on his door step - doctor's surgery, shops, post office, pub (very important) and had a good bus route into Lincoln. Even so Ron was often seen on the bus and walking around Lincoln City Centre doing his shopping well into his late 90's! So when he stopped ringing he was still able to listen to us ringing at Branston as he could see Branston tower from his sitting room so would open his window and listen to us and would often accept a lift down to the Church to sit and watch us ringing.
However the time came a few years ago when Ron decided he needed more help and he agreed to move into a Care Home this time at Heighington (which appropriately lies between Branston, Potterhanworth & Washingborough - all the places Ron has lived in most of his life and even been born in!) He seemed very happy here and again always took an interest in the local ringing wanting to know what methods we had rung and what quarters we had scored. On visits to see him he would often get his peal records out and reminisce about his own peal ringing days.
We were all so pleased when Ron reached his 100th birthday just four months ago (26th January 2020). Ron was determined to make it to 100 in these last few years (which I think kept him going) and you could tell how chuffed he was on his birthday that he had got there! We had a lovely afternoon with him at the Care Home where a party consisting of afternoon tea along with birthday cake was enjoyed by all in Ron's company, a day none of us will forget. The local ringers were able to present him with their birthday gift which was a print of a painting done by a local artist of Potterhanworth Church, apparently he loved it and it promptly went straight up on his wall in his room where he could sit and look at it - bringing him much joy. Of course the local ringers did much ringing that weekend to celebrate Ron's 100th including 6 Quarter Peals and 2 Full Peals and he was most interested in hearing about all the ringing which we had done for him, we even recorded a bit of one of them so he could listen to it. He was touched by the peal rung at Potterhanworth which had a new method named Applewhite specially for him and also the peal at Branston which replicated exactly his first peal rung at Branston nearly 70 years ago (just 2 weeks before the 70th anniversary of it).
Our last memories of Ron are happy ones, as they were from his 100th birthday when he looked so well, still the old Ron we all knew and loved. His mind was still as sharp as a pin and although he needed a walking frame and help to get from the chair up onto his feet, once up there was no stopping him and you struggled to keep up with him once he set off. He was in such good spirits and health.
The local ringers intend to commission a bench to include ringing/bell features to be specially designed and made in memory of Ron and to be installed at Potterhanwoth Church just outside the southern tower door looking down the churchyard (which Ron used to mow and maintain for many years), a fitting tribute considering he was a Carpenter by trade all his life! It will be a nice place for bell ringers to sit down, listen to the bells when not in the tower ringing, and to remember Ron.
Rest in Peace dear friend, now reunited with his beloved wife Molly.
Christopher C P Woodcock (on behalf of all the local ringers)