The Ringing World National Youth Contest - 30 June 2012
The appropriate way to start should be "What a great day" but in this case I think we should start with... "What an early day!!!"
After the early start of 7:00am we set off for Birmingham. (The Alford contingent were even earlier, they got a train from Lincoln at 7:00am!!) About 2 and 3 quarter hours later we met up at Tamworth train station where we got tickets at reasonably cheap prices, and went on the train for the rest of the journey. We arrived in central Birmingham for about 9:30am.
We then eventually found our way out of the train station and had the much more difficult task of finding the first tower, St Philipís Cathedral, where we had a ring on 12 and all did pretty well. We then moved on to St Paulís church, where the contest was held, to register and enjoy the lovely refreshments provided by the staff. Our team wasnít ringing until 1:40pm so we had plenty of time to sit around and have a go on the hand bells and "Charmborough ring" which some of us found very difficult!
We then had the contest. It was difficult to hear the other teams ringing as the bells were very quiet from the outside so you had to sit in a particular spot to hear a single sound. We were all anxiously waiting and had to wait a bit longer as the team before us had a competitor with a nose bleed! Luckily they had a reserve to cover for them. Then it was our turn and as we all clambered to the ringing chamber you could hear the other team mentioning a few tips (which we picked up on!). We waited until 1:50pm and then started by testing the ropes for length which the judges commented on. Then came the signal which the judges thought was quite comical because of a slight error, 3 bells gave the signal!
Then we began............
The ringing of Queens and Whittingtonís was very nicely conducted by Alistair Cherry. It was all over very quickly and we felt that we had rung quite well.
At the bottom of the stairs we received a goody bag containing all sorts of stationery and a chocolate bar. As there was plenty of time until the results we went to ring at St Chadís RC Cathedral with 8 bells. It was an awkward way into the ringing chamber where you had to sit in the small box room next to the organ until one team had rung then the next moved on.
We then went to ring on the famous and quite rare 16 bell ring at St Martinís in the Bullring. It was an unusual set up with every 4th sally being of a different colour, so when they called the changes, each set of 4 swapped round. After a good chance at these unusual bells we returned for the results. We received a lovely medal for coming 3rd equal in the call change category.
I would like to take this opportunity to say a huge thank you to all the organisers especially Sue Faull and the Guild who have provided a memorable tee shirt and some funding, also to those who provided transport, the loan of the towers for our practice evenings and helped out in any way towards this event making the day a very special for us all.
Happy ringing
Ellie Sargeant (Messingham, Holy Trinity North Lincolnshire).
---
The Lincolnshire Poacher team:
| | | |
| --- | --- | --- |
| Name | Bell No. | Tower |
| Bridget Jones-Crabtree | 1 | Washingborough |
| Ellie Sargeant | 2 | Messingham |
| Josh Doades | 3 | Spalding |
| Dan Meyer | 4 | Alford |
| Philip Scarf | 5 | Scotter |
| Emily Waters | 6 | Alford |
| Alistair Cherry (Cond.) | 7 | Grantham |
| Joe Waters | 8 | Alford |
Method category results:
| | | |
| --- | --- | --- |
| Position | Team | Score |
| 1st | Team 4: The G & B | (A*: 76%) |
| 2nd | Team 15: Oxford DG | (B) |
| 3rd | Team 8: Suffolk Guild | (C+) |
Call Changes category results:
| | | |
| --- | --- | --- |
| Position | Team | Score |
| 1st | Team 6: Sussex Young Ringers | (A: 70%) |
| 2nd | Team 7: Derby Tups | (A: 67%) |
| 3rd= | Team 14: Yorkshire Puds | (B) |
| | Team 13: Georges & Dragons | (B) |
| | Team 11: Lincolnshire Poachers | (B) |
| | Team 9: Hertfordshire | (B) |
| | Team 3: Essex Young Eagles | (B) |
| | Team 2: Bedfordshire | (B) |
| 4th= | Team 5: St Martin's Youths | (C) |
| | Team 1: Jammy Dodgers | (C) |
| 5th= | Team 10: King Edward VI School | (C-) |
| | Team 12: Vectis Youths | (C-) |
---
There now follows some additional words by the Guild Master, Alan Payne.
The Ringing World National Youth Contest took place at St Paul's Church, Birmingham on 30 June 2012. This was the second of what is becoming an annual event and fifteen teams took part including one from Lincolnshire.
St. Pauls, Birmingham
Each team of bell ringers, all aged under 19, were asked to ring a test piece of 160 rows of their choice of call changes, triples or major. The "Lincolnshire Poachers" were drawn to ring eleventh and rang call changes. The team rang really well and were proudly supported by parents and friends from Lincolnshire who listened intently outside.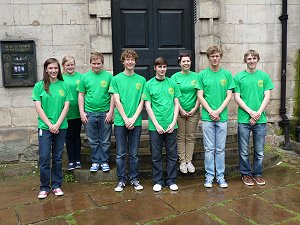 The Lincolnshire Poachers
Team in order from left to right
| | | |
| --- | --- | --- |
| Name | Bell No. | Tower |
| Bridget Jones-Crabtree | 1 | Washingborough |
| Ellie Sargeant | 2 | Messingham |
| Josh Doades | 3 | Spalding |
| Dan Meyer | 4 | Alford |
| Philip Scarf | 5 | Scotter |
| Emily Waters | 6 | Alford |
| Alistair Cherry (Cond.) | 7 | Grantham |
| Joe Waters | 8 | Alford |
Before and after ringing the test piece at St Paul's, the team and supporters rang on the bells at other towers open for the day including St Chad's Cathedral (8), St Philip's Cathedral (12) and, what for many was the highlight of the day, the sixteen bells at St Martin's.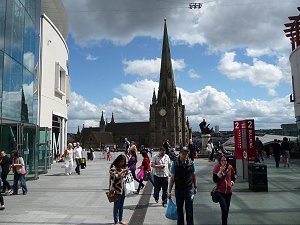 St. Martins in the Bullring
Simon Lindford was the Chief Judge again and this year assisted by another three "up and coming" young ringers, Jonathan Agg, Heather Forster and Louis Sugget. The marking system remained as last year with a maximum of two faults per row and the results normalised and graded similar to the GCSE examination system. Our team received some very favourable comments including "innovative linking of changes and a triple change start"; maximised use of the feature rows"; "good contest ringing and therefore would be good service ringing"; "fell just short of their obvious potential". Congratulations to out team who were awarded a 'B' grade. The winners of the call change section with an 'A' grade were the Sussex Young Ringers. In the method section the winners were The Gloucester and Bristol with an 'A*' grade. All ringers taking part were presented with a medal. The official table of results is shown above just after Ellie's report.
This was another tremendous effort by the young ringers from Lincolnshire and the whole Guild should be proud of their achievement. A lot of support is needed to arrange paticipation in these events and we are grateful to parents and friends who helped with transport and practices in the preceding weeks and with arrangements on the day. In particular we are most grateful to Sue Faull for arranging and coaching the team. The contest for next year has been scheduled for 6th July when we hope another team from Lincolnshire can be arranged to participate.
Alan Payne (2 July 2012)