Church Schools' Festival
The Guild's sixbel simulator was busy, once again, during the three weeks of the Church Schools' Festival. This is organised each year by the Diocesan Education Team to allow all the year 6 pupils from the, roughly, 120 church schools to visit the cathedral and take part in activities. This was the 5th year that we have taken part. The pupils spend an hour with us, learning to ring the simulator bells, then also have a go at ringing tunes on bellplates and changes on handbells. They have a very full and exciting hour, and the volunteers have an enjoyable, although tiring morning.
Once again everything went very smoothly and we received a lot of excellent publicity - with the clergy, school pupils and their teachers and with the many members of the public who watched or asked what it was all about. One teacher told us that she had been trying to get the simulator for her pupils for 3 years but it had been over subscribed, so she was thrilled to have got her pupils on it this year. Another teacher said she had asked for it again this year as it had been so popular with her group last year. A very nice article was produced by some young journalists for their school newsletter, which you can see below.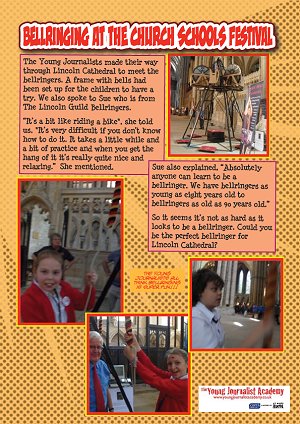 Please click on the image to open the PDF
About 38 ringers were involved this year at some point, of whom 9 were first timers. This is the largest number of volunteers we have had to date, but the more helpers we have, the less onerous it becomes for the rest. So if anyone has 3 hours to spare, in a morning in late May or early June 2013, then they would be a very welcome addition. Come and experience the buzz of hearing 250 lively youngsters in the Cathedral at one time!
Sue Faull