90th birthday celebrations for Walter Froggatt
On 25th May a quarter peal was rung to celebrate the 90th birthday of Walter Froggatt. The band contained 5 people Walter had taught to ring in the late 1960s and early 1970s at St Mary le Wigford in Lincoln.
St Mary le Wigford is a 4 bell tower in the city centre. These days the bells are only rung for occasional quarter peals on special occasions. In the 60s and 70s, however, it was a thriving tower where many, predominantly young, ringers were taught by Walter. No-one will forget that very long, steep metal ladder that went up to the ringing chamber. Many people will also remember that this was the era of the mini skirt, which made long ladders even more exciting! Walter was responsible for eventually replacing the ladder with a metal spiral staircase, much to the relief of the faint-hearted.
The weekly ringing practices were always great fun. Walter had the knack of letting the young ringers take a lot of responsibility for recruiting and teaching others, whilst keeping a firm eye on proceedings. Half way through the practice we would run the length of the High Street to finish the practice at St Botolph's, a six bell tower where our skills could be extended. Quarter peals were a regular feature of Sunday mornings and many ringers rang their first quarter peals at St Mary's.
Inevitably, 4 bell ringing had its limitations and most of Walter's ringers then went on other city towers and ringing on higher numbers. In retrospect, this must have been a source of frustration for Walter, but he continued to teach the next batch of new recruits. It is a great credit to Walter that many of his learners are still ringing, and are actively involved in teaching others, passing on his high standards of teaching of bell handling.
The band rang a good quarter of Cambridge Minor and then enjoyed a chat with Walter who had listened to the quarter from the church porch. A chocolate birthday cake was devoured and there was a lot of laughter over photos taken by Walter of the ringers all those years ago. All that hair, and all those short skirts!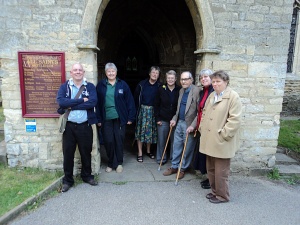 Photo outside Nettleham Church.
Colin Ward (ne Drabble) Sandra Underwood (nee Stallibrass) Margaret Parker,
Sue Faull, Vivienne Johnson (nee West) Fiona Dawson (neeMcInnes)
All ringers, except Margaret were taught by Walter.
Sue Faull