Christmas Cards for 2011 - Now Available (10 for £3)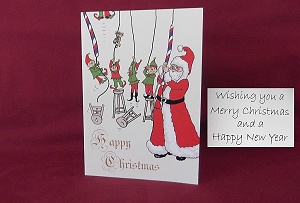 Click on the image above to see a larger version
The Guild Christmas Card is now available. The cost is 10 cards for £3.00. An image of the card and the writing inside is shown above.
To order your cards, please use this . Mark the e-mail for the attention of Roy Norman and send it detailing how many cards you would like.
Delivery of the cards within the LDGCB, will be normally undertaken with the help of the members.
All proceeds to the LDGCB Bell Repair Fund.

Free JavaScripts provided by The JavaScript Source
Created: 12 September 2011 (jc) -