Branch and Guild Olympic Celebrations
Well it's been a long time coming, but here is it. This page contains pretty much all of the information (which is not much) so far received from the individual branches, on what they did to celebrate the Olympics.
Webmaster
---
OLYMPIC TORCH WELCOME
Ringers at Bourne Abbey rang a Quarter Peal starting at 8.45am to welcome the Olympic Torch as it passed through Bourne on Wednesday 4 July 2012.
Bourne, Lincolnshire
Sts Peter & Paul
Wednesday 4th July 2012
1296 Cambridge Surprise Minor
1  Alan G Payne (C)
2  Joan Payne
3  Matthew J S Payne
4  James E Benner
5  Michael Maughan
6  P Barry Jones

Rung to welcome the Olympic Torch as it passed through Bourne




---

THOMAS EVANS' STORY
Thomas Evans (age 17), who regularly rings the bells at St Wilfrid's, Alford, has been selected as a Torch Bearer when the Olympic flame travels through Lincolnshire this summer. Thomas was nominated by a couple in Lincoln who had become aware of his community fund raising efforts over a number of years. Thomas' recent efforts have included a sports challenge to raise funds for the Alzheimer's Society and raising money as part of his Duke of Edinburgh Award for the bells at St Mary's Church Harrington. In the past, when Thomas was thirteen, he received the Lincolnshire Young Achiever Award from the Damian Trust for his community fund raising including organising a sponsored bell ringing and concert event for one Red Nose Day and doing a sponsored bike ride for another Red Nose Day. Thomas has been a member of the bell ringing team at St Wilfrid's Church, Alford since 2006. He is currently an A-level student at Queen Elizabeth's Grammar School, Alford where he is an Anti-Bullying representative, in charge of the EcoGarden and a member of the Jaguar Cars team.
Thomas carried the torch in Holbeach on Wednesday July 4th when the torch travelled through Lincolnshire for the third time.
Thomas is currently fundraising for the children's charity 'Wish Upon a Star' and, with his sister Gemma, still raising funds for the bells at Harrington Church.
For more details see: www.queenelizabeths.co.uk/html/BBCSchoolReport/11/

Newspaper article: http://www.skegnessstandard.co.uk/news/local/teen-s-olympic-honour-1-4045602

Youtube clip: http://www.youtube.com/watch?v=Fq4lgDDl2Ks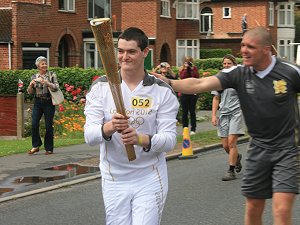 ---
West Lindsey Branch Olympic Torch Ringing
Scunthorpe, North Lincs
20-21 Visual Arts Centre
Tuesday, 26 June 2012
1274 P Bob Triples

1 Sue Faull
2 Roger Lord
3 Frances Thompson
4 Malcolm Sargeant
5 Philip Scarf
6 Andrew Lord
7 Ian Till (C)
8 Rae Todd


Rung to mark the passing through Scunthorpe
of the Olympic Torch.

Saxilby, Lincs
St Botolph
Thursday, 28 June 2012
1320 Cambridge S Minor

1 Joy Till
2 David Whetton
3 Janet Clarke
4 Malcolm Sargeant
5 Christopher Turner
6 Ian Till (C)


Rung to mark the passing through Saxilby of the Olympic Torch.

Also a birthday compliment to Ruth Whetton.
Jonathan Clark (Webmaster)