Joint Practice at Surfleet - 5th February
"This photograph was taken at St Laurence's Church Surfleet at the joint Surfleet & Gosberton Practice which is always on the 1st Tuesday of the month. It is not every month that we get 12 ringers and have ALL 12 bells ringing. We rang call changes Queens and Tittums."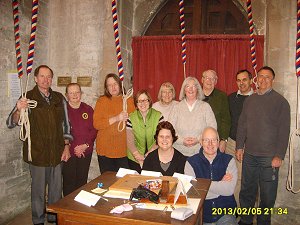 The ringers at Surfleet on 5th February
Click for a larger picture!
The people in the photos from left to right are as follows :-
Back Row : Peter Wakefield (Gosberton), Annette Rhodes (Surfleet), Nicols Hards (Surfleet), Rachel Naylor (Gosberton), Janet Young (Gosberton), Val Wild (Kirton in Holland), Lester White (Gosberton), Rob Mitchel (Gosberton), Roy Snow (Crowland Abbey)

Front Row (Kneeling) : Maria Webster (Bicker), Dave Webster (Bicker)

Missing from the 12 is Barbara Webster (Bicker) taking the photo!
Barbara Webster (Secretary EDB)