Wainfleet St Mary - Rededication

The six bells in the tower of the church at Wainfleet St Mary have been retuned and rehung in the existing frame with all new fittings by Taylors Eayre & Smith Ltd. The canons have been removed from the treble and tenor. The tenor now weighs 11 cwt 3 lbs and its note is G. The frame is dated 1844 and was made by Howden of Boston. It is an early example of a metal frame.
The rededication of St Mary's bells took place on Sunday 16th September 2007. The bells were rung prior to the service, which was conducted by the Bishop of Richborough, The Rt Revd Keith Newton, assisted by Priest in Charge, Revd Fr Bryant C Bechtold.
As the bishop processed to the tower the hymn, "Let bells peal forth the universal fame" was sung. After the bishop had addressed the people and the churchwardens presented the bells to the bishop, the choir sang the anthem, "The Bells of St Mary's".
Holy water was sprinkled on the ropes as the prayer of blessing was said. An additional prayer of blessing was said for the handbells.
As the party processed back to their places, the bells were rung in rounds by Rhoda Reynolds, Tom Freeston, Val Wild, Sue Faull, John Collett and Michael Bainbridge.
The bells were rung again after the service, with the Sue Faull (Guild Master), John Collett (past Eastern Branch President), Gerald Flatters (representing Taylors Eayre and Smith Ltd) and various Branch members joining in.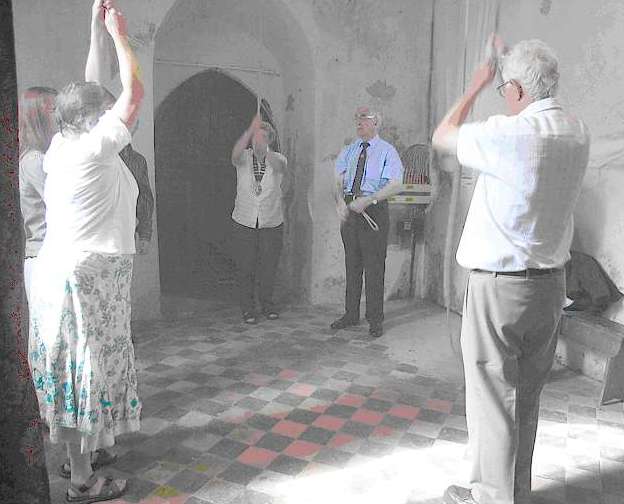 The leaflet handed out in the service states that the cost has been high in terms of cash and personal effort but when people say, "How wonderful to have the bells back" it is worthwhile.
Full details of these bells can be found on page 236 of Lincolnshire Bells and Bellfounders. Tuesday is now practice night, 1900 - 2030.
The congregation of St Mary's gave all the visitors a very warm welcome, and the bells were put to good use, before, during and after the service.
I am grateful for information used in compiling this article from Val Wild and Andrew Higson of Taylors Eayre & Smith Ltd.
JRK