2018 News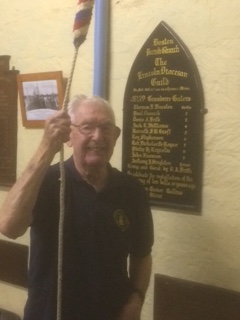 Happy Birthday, Tom. 86 years young!
Sunday 1 July was Tom Freeston's 86th birthday, the photo was taken during ringing for service at The Stump, and then he went on to ring for the service at Fishtoft.
Not bad eh?
Eastern Branch Striking Contest at Fishtoft - Sat 2nd June 2018
This year five bands contested for the George Brewster Cup at Fishtoft, the same number as last year at Wrangle. Notwithstanding the weights, Fishtoft bells are quite easy to ring but slight odd-struckness means good concentration is needed as a consequence.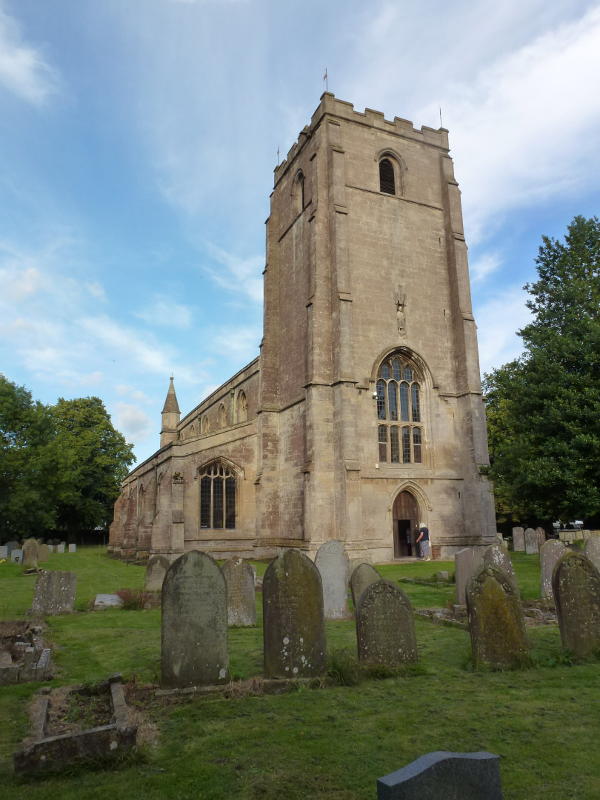 Having welcomed Alan and Joan Payne, the judges from Bourne, a location had to be found for them. The organ loft was rejected, as was the room below because of noise penetration from a noisy party at a local pub. They finished up in their car, driving to the centre of the churchyard next the church. This proved a canny move because at the end of the contest a downpour started and it was a simple matter to move the car along to the tower door and use a big umbrella.
All of the bands were complete on time and the draw was made just after 6pm. Alford rang first; this was fortunate since Edward Vear was anxious to get back home to his wife Jennifer who was recovering from an eye operation earlier in the day. All went well until the end when one bell began to lower quickly. "Broken rope" and "broken stay" was heard downstairs but it was a rope-snag & was soon put right. The fifth was then lowered and re-raised . It was only later on in the contest that Alford reported that the fifth was up "wrong" during their test piece. Possibly, had this been known earlier they might have been invited to ring again, the first effort being voided.
The other teams rang in order, performances being uneventful; tea (snacks instead of a formal effort, notwithstanding some people bringing fancy food) was eaten throughout the contest. The last team finished at about 7.45pm when Mick Smith, the Branch President, thanked everyone for coming along for the occasion. He then introduced Alan and Joan Payne, our judges from Bourne. Alan is a past Guild Master and Joan the organizer of the Southern Branch Wednesday programme.
Alan spoke with kind words on our ringing efforts in general and each team's performance in particular. He then gave the faults "earned" by each team, in the order that they rang, as follows:
1 Alford - 64
2 Butterwick - 60
3 Boston - 20
4 Ingoldmells - 23
5 Coningsby - 38
[Click here for more detail]
Alan congratulated Mick Smith, the Boston leader on their success and Joan presented him with the George Brewster Cup, which he accepted on behalf of the band.
Mick thanked Alan and Joan for coming along and helping to make the evening a success and Helen Brotherton, Branch Secretary, presented them with gifts as tokens of our thanks.
General ringing followed until about 9pm. We were joined by a ringer from Bedfordshire who was holidaying in Wainfleet. Tables & chairs were put away, the washing up finished and the hall tidied by soon after nine. Donations, such as they were, for the refreshments were given to the church.
Bill Brotherton
Eastern Branch visit to Sibsey 7th April 2018
The Eastern Branch were pleased to welcome three visitors from the Central Branch to the ringing practice on the eight bells at Sibsey on Saturday 7th April 2018, in the evening. The meeting was planned to be at Kirton, but due to a last minute problem with the tenor there, the ringing was moved to St Margaret's, Sibsey.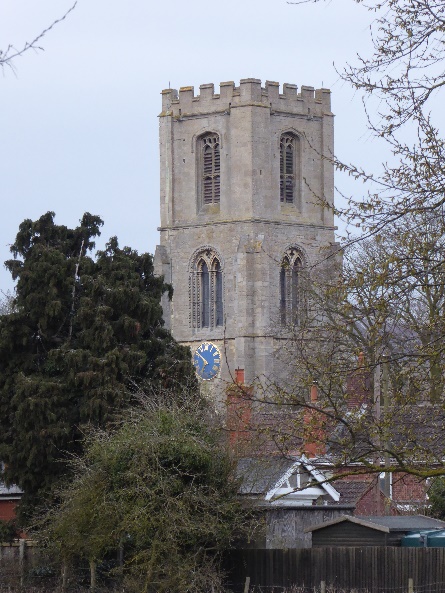 With ringing master Tony Barker in charge, a variety of methods were rung to suit the approx. fifteen members present. The evening's special method, Single Oxford Bob Triples was completed, once everyone scrambled onto the same blue line! Stedman, Grandsire, and Plain Bob Triples were rung as well as various major methods including Yorkshire Surprise.
Following a convivial chat outside the church, we all made our way home. The next meeting is at Friskney on Saturday 5th May. The Guild AGM is in Lincoln on Saturday 28th April and it is hoped that as many members as possible will attend.
Posters for the annual flower festival at Surfleet were handed out, which runs from April 28th to May 7th, open 10am to 5pm daily, all welcome. The theme this year is musicals.
Val Wild, Kirton
Tattershall's Royal Visitor
On Monday 19 March 2018 HRH Prince Charles visited Holy Trinity Church Tattershall at the end of his tour around Lincolnshire. He had started the tour by visiting Louth's Cattle Market, followed by a visit to various Boston charities and innovative industries. After arriving at Tattershall and climbing the many steps to the top of Tattershall Castle, to enjoy the immense panoramic view and being blown about by the tail end of the Beast from the East, he arrived in Tattershall Church to excited children, smiling congregation, ringing bells and a welcomed cup of tea.
Rev Sue introduced him to the ringers, especially Joan Simpson whom he congratulated on her award of the BEM in the New Year's Honours List, awarded for her community service and over 75 years of ringing. He also met the youngest ringers, Bryony and Luke and asked them about their ringing. Chris Woodcock then invited the Prince to ring, which he accepted immediately and very soon the third was ringing out royally. I was then involved in a rugby scrum with the press who did not know and did not care that the other bells were up and dangerous, especially when the treble got wrapped around a TV camera, which probably accounts for why there was no TV footage of HRH ringing.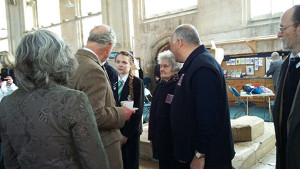 After the Prince had left and the Church returned to normal a quarter peal was rung in celebration of the day by a team of Eastern Branch and Central Branch ringers.
It has been decided to rename the third as the Royal Third and when, in a couple of decades, an inquisitive ringer asks why the third is called the Royal Third, hopefully someone will remember why.
The local congregation should be congratulated for making the Church look fabulous and providing refreshments. You had to look hard for bat droppings!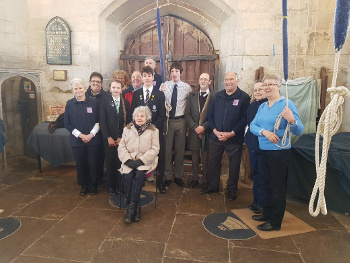 Tess Rowland - images joint effort of Coningsby Team.
Eastern Branch Learners' Practice - St Michael's Coningsby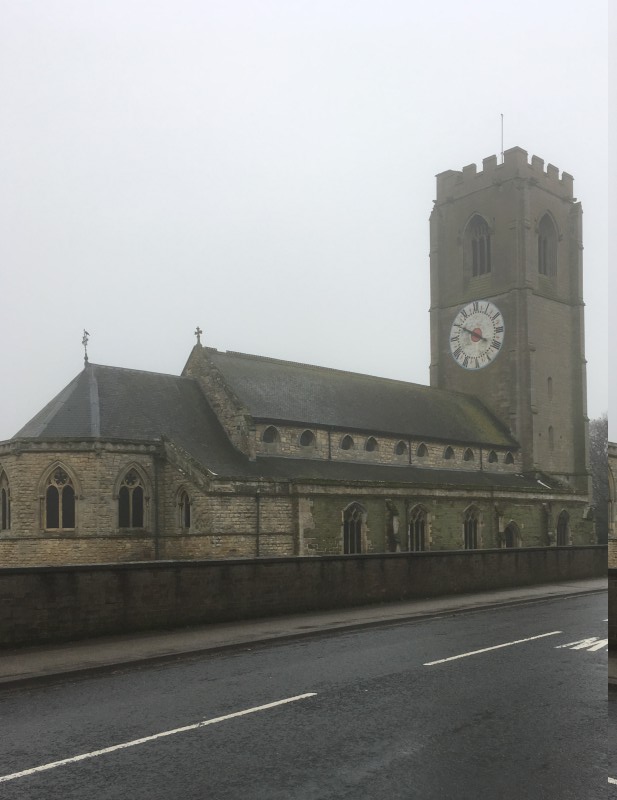 On Sat 3 Mar 18, a cold, slushy evening following on from storm Emma and the copious amounts of snow she had drifted around the county, 15 ringers from Eastern Branch and Central Branch attended a learners practice at St Michael's Coningsby.
Tony Barker began the evening by running an Association of Ringing Teachers (ARTS) ringing up demonstration on his laptop. This showed the various ways to ring up bells and the way to do correctly. The learners then proceeded to ring the bells up and down assisted by the more experienced ringers. Chiming was also covered and there were various interpretations on the theme of ringing 3 chimes.
Rounds and call changes followed, with courses of Plain Bob Minor being rung towards the end of the evening. Tea and refreshments were provided by the Coningsby ringers.
Thanks to everyone who turned out on such a cold Saturday evening, the learners, the experienced ringers who generously helped the learners and Tony who had obviously planned the evening and what was to be taught to give learners a wider knowledge base and build confidence.
Tess Rowland
Eastern Branch AGM - Swineshead Jan 27
The AGM was held this year at Swineshead. Ringing was followed by a short service, a hot lunch at the local farm shop, the AGM and more ringing.
The Guild Master Chris Turner was welcomed as were visitors from Elloe Deaneries Branch.
Annual reports were received and accepted from the EB officers.
Secretary Helen Brotherton reported on another year full of activity. She noted in particular that this year we were almost overwhelmed by the number of weddings we had been invited to ring for. So many in fact that it had impinged on numbers attending branch events held during the day.
Unfortunately a proposed outing to see a casting at Taylor's was not feasible and with little time to arrange another we decided to forego an outing this year. Hopefully we will have good next outing year.
Ringing master Tony Barker reported on a good year with plenty of ringing opportunities.
Branch Quarter Peal Week was much better supported than in recent years. This was especially due to a series of quarters rung by the Coningsby & Tattershall band and some quarters organised by Jo French.
A team made up of Eastern Branch young ringers, together with three more from the south, made up our 'Lincolnshire Gamekeepers' team participating in the Ringing World National Youth Contest in July. We managed to catch up with the 'Lincolnshire Poachers'; both teams being scored equally. A very good effort!
Treasurer Val Wild reminded us that annual subs are now due and should be paid before the end of March 2018; &pound10 adults &pound3 for anyone in full time education.
Phil Ford reported on the EB's fund raising activities for the Guild. The 'Race Night' held at Alford had raised &pound434, which had been donated to the Guild Training Fund. The meeting agreed that the proceeds of the 2018 fundraiser should also be earmarked for this purpose.
Sales of Christmas cards and calendars had gone well, contributing some &pound260 to the Guild's overall total of &pound1200. Thankfully, all the Calendars had been sold as unlike unsold Xmas Cards they cannot be held over till next time!
We heard from Guild Master Chris Turner about the guild updates and about his hopes for the future direction of the Guild. He also mentioned that Guild Treasurer Roger Lord would be resigning this year and that a volunteer to take over was being sought!
Mick Smith was elected as EB President. Our thanks go to outgoing President Edward Vear for his sterling service.
Tess Rowland stood down as EB Web Master, and Phil Ford took the job on. All the other officers remained the same, and were thanked for their work last year.
Congratulations were given to Joan Simpson of Coningsby on her award of BEM in the New Year's Honours list for her services to Coningsby.
The meeting concluded with the drawing of the raffle which was well supplied with donated prizes. Many of us had been eyeing a very nice bottle of port, which was quickly snapped up by Bill Brotherton as holder of the first ticket drawn!